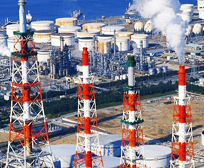 Storm was incepted in 2012 by experienced technocrats.The promoters worked in various MNCs globally in various roles. We specialize in implementing LSTK projects involving Electrical & Instrumentation, Control & Automation components.Storm also offers O&M services.We are rapidly expanding and have highly dynamic team of young talented engineers led by a team of professionals with rich experience. All our solutions are well proven, rugged. We have experience of working with major multinational customers and international consultants.
Storm is authorized distributors, solution providers and integrators for HONEYWELL and ICONICS.
MISSION
To keep up pace with customer demands and industry challenges and help our customers achieve their goals through our value added services and solutions
VISION
To grow storm into a world class enterprise, most dependable partner to work with...
OUR TEAM
Ramesh Vemula
Ramesh Vemula has got nearly three decades of experience and founder member of Storm Group. He carries vast exposure on Instrumentation, Electrical and Turbo Machinery services portfolio.
He held many senior positions with many MNCs across Middle East incl. Saudi, UAE, Qatar etc. His working experience with Stork Turbo Services globally adds value proposition to Storm and thus to our clients. His able leadership and business acumen provides direction for Storm's growth. He is now the Managing Director of Storm Energy Solutions Pvt.Ltd and carries the portfolio of O&M group and Turbo Machinery Services.
RDF Power Projects has chosen Storm to provide automation solution for its power plant based on revolutionary RDF based Power production technology which will convert 1000 MT of Municipal waste into RDF (Refused Derived Fuel) for generation of 11 mw of electricity per day at its facility located at Bibinagar, Nalgonda District, Hyderabad.
The automation of Dr. M Filters at Shree Rayalaseema Alkalies and Allied Chemicals Ltd., Kurnool, AP has been successfully implemented by Storm with the use of Honeywell PLC and HMI.
Storm has successfully implemented first of its kind, integrated Building Management System at Sanzyme Healthcare Unit-II at Kolthur, Hyderabad.